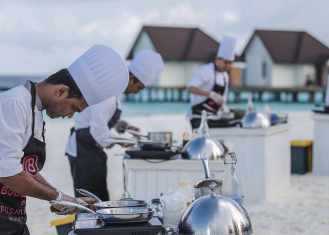 Fushifaru, a boutique, luxury Resort nestled in the heart of Lhaviyani Atoll, Maldives, celebrated its six-year anniversary with a week-long series of extraordinary events, marking a significant milestone in the Resort's history.
The festivities showcased a vibrant range of activities that epitomised the spirit of Fushifaru. Firstly, Fushifaru's social media followers were invited to take part in a 6-night Giveaway for a free stay on the island. The celebration began on the island with a sizzling 'Bodukakka' Chef Competition featuring four of Fushifaru's esteemed chefs displaying their culinary prowess in a time-constrained challenge. Adding an adrenaline rush to the festivities, guests and Fushifaru Residents engaged in a spirited DodgeBall Tournament, showcasing team spirit and competitive camaraderie.
The pool area transformed into a fiesta as DJ Hambe played tunes, creating an infectious energy that had guests dancing and celebrating in the pool, and under the Maldivian sun.
Renowned Chef Chris, popularly known as The Cotswold Guy, shared his culinary expertise in an exclusive masterclass, enlightening attendees on his famous Sausage Roll and signature Scotch Egg, sharing his passion and knowledge in the culinary arts. Chef Chris also hosted a theme night at Raakani where he prepared a delicious five-course dinner with paired wines.
The highlight of the anniversary celebrations was a glamorous Fashion Show, where the esteemed Mr. & Mrs. Fushifaru 2023 were elected amid cheers and applause. The grand finale of the celebrations was a mesmerising Gala Dinner and After-Party on the picturesque beach, where guests savoured delectable cuisines and revelled in the enchanting ambiance, celebrating the journey of Fushifaru over the past six years. The celebration closed with a Special Closing Wine Pairing Dinner at Raakani Restaurant on October 25th, hosted by the renowned winner of the MasterChef series, Chef Dan Lee.
"We are immensely grateful to our guests and the incredible team at Fushifaru for making these six years a fantastic journey," said Ahmed Siaar, the General Manager. "These celebrations were a testament to the vibrant spirit and unique experiences that Fushifaru continues to offer."
Fushifaru looks forward to many more years of creating unforgettable memories and delivering exceptional experiences to all its patrons.
For reservations and more information about Fushifaru's 6th-anniversary celebration, please visit www.fushifaru.comor email [email protected]