Maldives Marketing and Public Relations Corporation (MMPRC/ Visit Maldives) is delighted to announce the successful conclusion of a webinar series for Eastern Europe. The webinar held on September 26th was for Czech Republic and Slovakia, while the webinar on September 27th was aimed at Hungary and Poland. This series of webinars has proven to be highly-engaging, further bolstering the Maldives' brand presence in Eastern Europe and fostering meaningful connections with B2B agents.
Speaking at the webinar opening, the Chief Executive Officer and Managing Director (CEO & MD) of MMPRC, Thoyyib Mohamed, noted the importance of the Eastern European market to the Maldives. "As you all know, the Maldives tourism industry has a strong connection with the Eastern European market. I am confident that the Maldives will continue to remain one of the most desired and preferred destinations for travellers from the region." 
The Eastern European Webinar Series, a strategically executed initiative, brought together travel agents and tour operators from four key Eastern European markets: Czech Republic, Slovakia, Hungary, and Poland. Over the course of two days, there were two sessions for the 4 markets, providing invaluable insights and information about the Maldives as a premier travel destination to approximately 30 agents from each market. Six industry partners joined the webinars, contributing their expertise and knowledge about the Maldives. These partners include Intour Maldives, Adaaran Select Meedhupparu, Banyan Tree Vabbinfaru, Let's Go Maldives, Lily Beach Resort and Clarks Exotica Kamadhoo. This collaborative effort served as a platform to showcase the Sunny Side of Life and help our industry partners establish stronger bonds with agents from the Eastern European market. The webinars were highlighted by exciting holiday giveaways from the participating properties.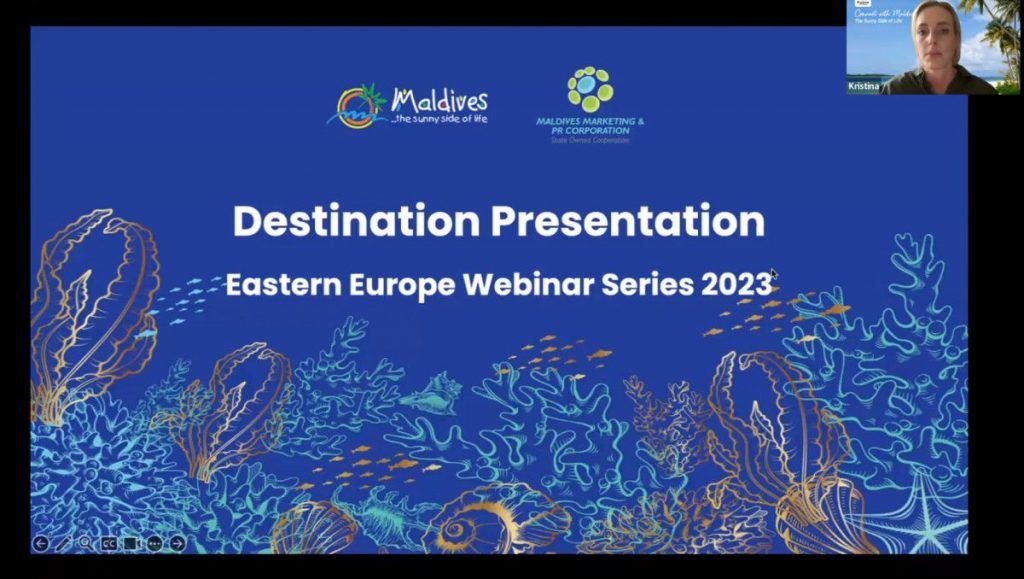 MMPRC's strategies for the Eastern European market, which included targeted advertising and promotions highlighting various travel experiences, were well-received. These experiences ranged from liveaboards and diving adventures to luxury resorts, guesthouses, and family-friendly holidays. Additionally, we successfully expanded our B2B network by forging new connections with travel agents in the region.
Despite the challenges posed by the COVID-19 pandemic, the Maldives' tourism sector has demonstrated remarkable resilience. Arrival figures in 2021 exceeded pre-pandemic levels, and early data for 2023 indicates sustained growth, with strong indications of surpassing the previous year's numbers.
The success of the Eastern European Webinar Series underscores MMPRC's commitment to engaging with key markets. It is a significant part in our plan on maintaining Maldives presence in this market, following other successful events such as ALTS Prague and the Budapest Airport Roadshow. This series also set the stage for our upcoming Eastern Europe Roadshow, which is expected to further enhance our brand recognition in this important market.