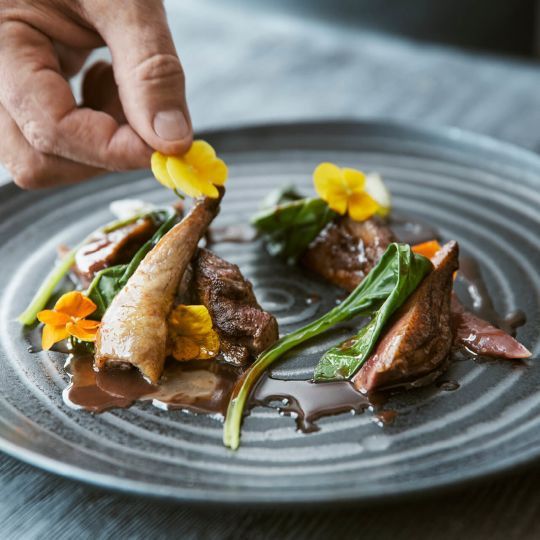 Experience a taste of Tuscany in the Maldives as Chef Giovanni Luca Di Pirro brings guests on a gastronomic COMO Journey from December 4th to 12th 2023 at COMO Maalifushi, the only luxury lifestyle resort located in Thaa Atoll. Explore the traditions and flavours of Tuscany against the breath-taking natural beauty of the Maldives, an ideal backdrop for this immersive and sensual gourmet journey.
Led by Chef Di Pirro who is the Executive Chef of COMO Castello Del Nero, our sister property in Italy, the week's residency will offer guests will have the unique opportunity to learn from and savour his culinary creations.
Chef Di Pirro will be hosting several events from cocktail conversations to Chef Tables and Beach Barbeque dinners to share with guests his culinary experience and ethos, while showcasing the flavours of the sea will delight with a unique Tuscan twist. A highlight of the COMO Journey will have guests starting the day fishing with Chef Di Pirro to catch your own fresh seafood. Following the morning fishing adventure, guests will enjoy a captivating cooking demonstration and a sumptuous lunch prepared by the chef himself.
Executive Chef Giovanni Luca Di Pirro's cooking philosophy is a blend of three unique culinary backgrounds: Romagnolo by birth, Abruzzese by descent, and Tuscan by residence and adoption. He gained a wealth of experiences over decades of culinary training and work as a chef in various prestigious establishments, experience that has cemented his passion for the cultures and traditions related to food and local products. Under his direction as executive chef, La Torre at COMO Castello Del Nero was awarded a Michelin star. His cooking philosophy is inspired by Tuscany, using the local produce from the region to inspire creations that highlight the purity, quality and freshness of flavours for each season.
Seating are limited for these events and would need require reservations.
For more information on COMO Maalifushi, Maldives or to book the next stay, please visit https://www.comohotels.com/maalifushi