Maldives participates at the World's leading travel trade show ITB in Berlin, Germany from 7-11 March 2018, showcasing a variety of Maldives experiences at a newly designed stand 405sqm two story stand. With record breaking number of over 100 companies and 280 representatives from 106 companies at the Maldives stand, it is the largest event for the Maldives tourism sector as well. The Maldives contingent is led by a high level delegation which includes HE. Ambassador Jameela Ali, HE. Ahmed Shiaan and Mr. Haris Mohamed, Acting Managing director of MMPRC.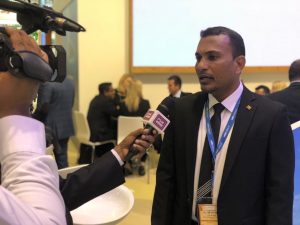 The brand new design of Maldives displays various aspects of the destination through colourful images. In a contemporary setting, traditional elements such as Maldives traditional swing and Maldivian "joali" seats hand woven with rope and even powder white sand from the Maldives are infused in the design to bring a local touch.
For a taste of the Maldives, the Maldives stand is showcasing a gourmet food area with variety of refreshments for a delightful experience for the visitors. This includes tastes of different local flavours of Maldivian snacks such as fried breadfruit, "Athu jehi" made from dried tuna, rice flour mixed with spices and chilli then deep fried. A live station demonstrating the art of making traditional "roshi" (Maldivian flat bread) which you can try with "rihaakuru" fish paste or and mas-huni (tuna salad) a typical Maldivian breakfast, composed of tuna, onion, coconut, and chili. All ingredients are finely chopped and mixed with the grated meat of the coconut. In addition, Maldivian sweets such as "Addu Bendi" a tasty sweet wrapped like a candy with banana leaf made using locally available ingredients, grated soft coconut (Gabulhi), thick golden toddy syrup and Jasmine flavoured water specially from the South of Maldives.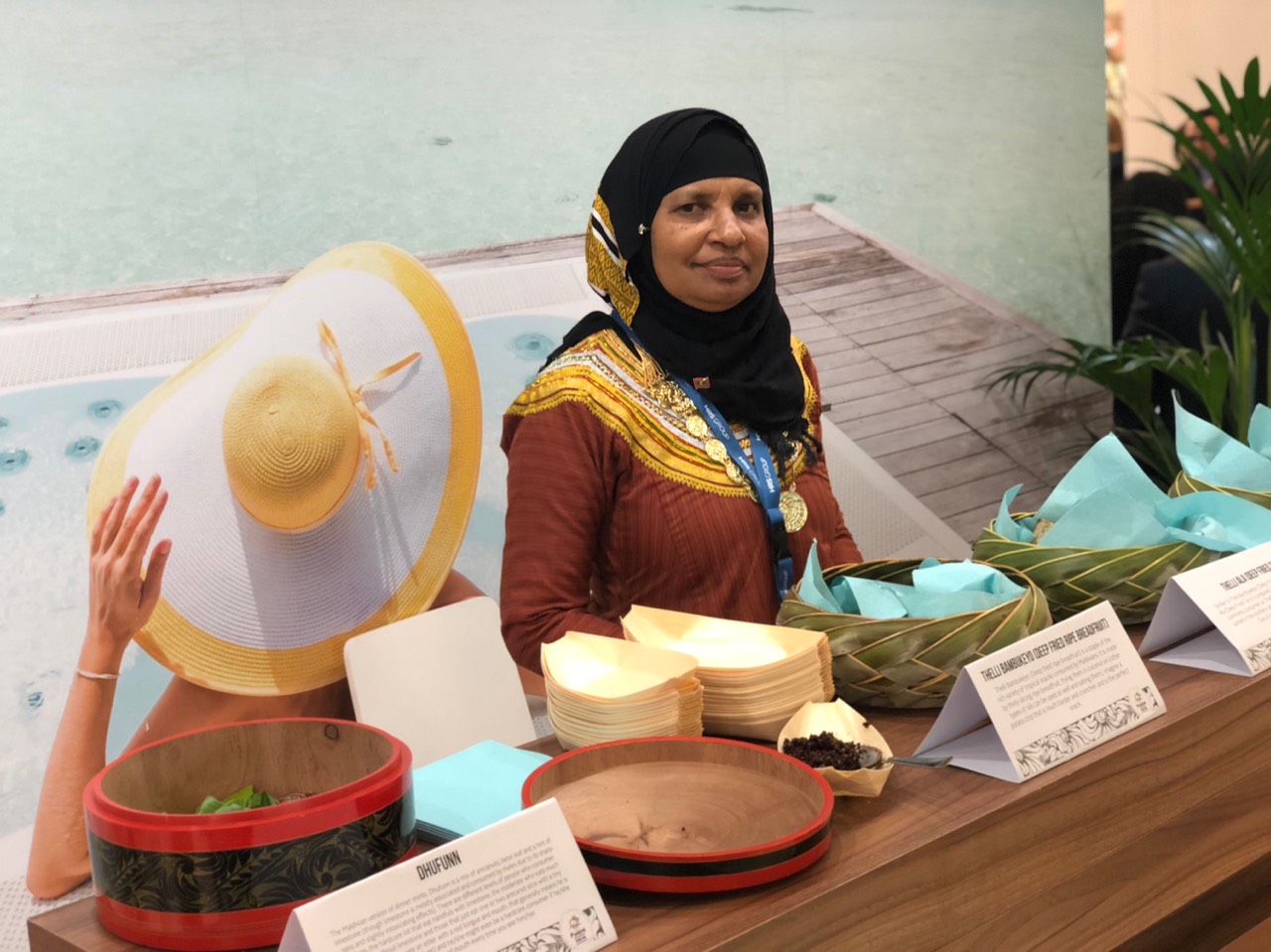 Highlights of activities this year include, experience of Maldives through virtual reality, with colourful underwater flora and fauna or swim with whale sharks or the serene sunny beaches of the Maldives islands; Cultural dances by young Maldivian women in vibrant traditional wear; take picture and post on social media at the photo corner where you can experience the Sunny Side of life
In addition, the customary Maldivian Night will be held this evening at the Hotel Palace Berlin by invitation of top travel trade, media and Maldives Tourism industry partners.
More than 180 Countries across 5 Continents are participating at ITB Berlin. These comprise 10,000 Exhibitors, 1000 Qualified Top Buyers, 28,000 Convention Visitors, and 109,000 Trade Visitors within the 160,000 Square meters of the show at Messe Berlin Exhibition grounds. There was a turnover of 7 Bn. Euro in business dealings last year through ITB Berlin, according to the fair organizers.
ITB Berlin provides vast opportunities through their B2B platform for the Maldives industry partners to interact with the trade visitors and expand the contacts and do business. Furthermore, it is the place to show the product offerings of Maldives and communicate destination information to the travel trade, media as well as the public visitors.
Germany is currently the second largest source market to the Maldives. A total of 112,109 Germans chose Maldives for their vacation in 2017 which is a growth of 5.2% compared to 2016.