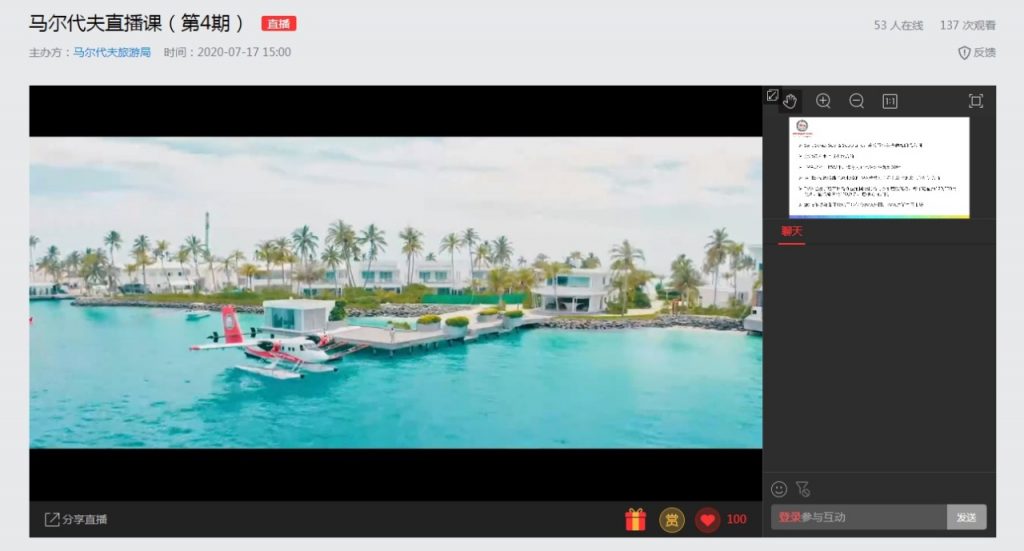 Maldives Marketing & PR Corporation (MMPRC) is set to start the fifth webinar session of the webinar series targeted to the Chinese travel trade on 31st July 2020. Four sessions have been conducted so far, with more sessions planned for the rest of the year. These webinar sessions are essential in educating Chinese travel trade partners to learn more about the Maldives and its products whilst also helping to position the Maldives as a preferred tourist destination for Chinese travelers.
In total, 1079 travel agents from across China have participated in the previous four sessions. During these sessions, an in-depth presentation of the Maldives tourism industry, Maldives tourism products, and information about Maldives Airlines were shared with the participants, in Chinese Language. In addition, information about travel to Maldives during the pandemic was also given during the sessions.
The sessions were conducted with specific discussion topics relating to Chinese tourists' interests. At the end of each Webinar session, an interactive question and answer session was organized to answer any queries about the destination. The interest shown by the participants positively indicates that Chinese tourists are looking forward to visiting the Maldives as their preferred destination.
In the upcoming webinar sessions, several partners from the Maldives tourism industry will be delivering the latest information about Maldives tourism products and information about their properties with the travel agents.
These webinar sessions are part of an important marketing strategy by MMPRC to train travel trade in key tourist markets across the globe. It is necessary to promote Maldives as a safe destination in the Chinese Market, for tourists who will begin their travels post-pandemic.
China remains the biggest source market for the Maldives. It is projected that the number of arrivals from China is expected to increase once they open up their borders for international outbound travel. Before the pandemic, in January 2020, a total of 31،744 tourist arrivals were recorded from this market which was a 23% growth compared to the same period of last year.